Can you pass your exam with the help of a scanner? Are they helpful?
What is a Scanner?
CMA Final Scanner, CMA Inter and CMA Foundation Scanner
A scanner is a book or a pdf consisting of all the previous year questions that came in examinations. It is a collection of questions that have previously come in exams. They can be solved or unsolved. A CMA final scanner will contain all previous question that have arrived in CMA final exams, CMA inter scanner will have questions that arrived in CMA inter exams and similarly CMA foundation will also have the questions asked in CMA foundation exams.
A scanner may include the following:
Chapter wise questions
Questions with solutions
Examination trend analysis
Quick glance at chapter contents
Repeatedly asked questions
Test series
Are Scanners helpful?
Scanners can be helpful as an additional source of preparation. They however are not sufficient if used alone. One cannot depend on them. You can use CMA final scanner, CMA inter scanners or CMA foundation scanners when preparing for respective examinations. You can practice several questions and solved answers, you can browse through chapters or subjects in a quick way or can check out the examination trend for previous years. Scanners are best used if you have a lot of time, but close to exams you may want to focus on other study materials like mock test papers or notes.
You can find CMA foundation scanner, CMA inter scanner and CMA final scanner provided by ICMAI on their website.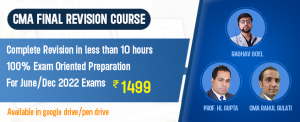 Can you pass your exam with scanner?
No, you cannot. As mentioned above they are a secondary source of study material. You can not entirely depend on them. Even chapters provided in scanners are compact, they are quick, and you should only refer to them when you have completed your course with other resources.
CMA institutes prepare quality study material for their students. They provide:
Test series and practice manuals
Books and notes
Mock test papers
Previous year papers
Crash courses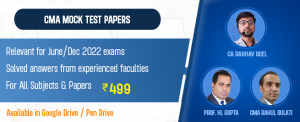 You should best refer to the material provided by your institute and adhere to their guidance.
Check out TopLad's Study Material