CMA articleship is considered to be the golden period in a student's professional life, because it helps them to pursue their theoretical knowledge into practical one, thus giving them the exact opportunity to prove themselves. Unlike CA, where one has to do the article ship for 3 whole years, the CMA course gives students relief in completing the required 3 years of articleship thus, giving you plenty of time to find the most desired CMA articleship vacancies for you.
You Might Ask How?
Well, the answer is quite simple unlike CA where it is mandatory that to be eligible to sit in the final examination, one has to complete the 3 years of training, but in CMA articleship,  only 15 months of CMA articleship duration is required to be completed that too before the final exam result declaration and the rest period of 21 months have to be completed as a result, to be eligible to obtain membership with the Institute post qualification.
Now that you CMA students know that you have relief, the next questions which often comes to mind is,
Are there any CMA articleship vacancies?
Where can I find a good CMA articleship?
When will the vacancies open for CMA articleship?
Well not to worry, we live in the digital era where everything you need is just a click away all you have to type is CMA articleship vacancies and voila, all the information you need is right in front of you. All the top companies keep on posting for the vacancies they have, and if going to search for big companies all the time and checking if they have vacancies is kind of an exhausting task, then you can also go & check them out on the Toplad website, as we keep on posting the vacancies for the companies like Accenture, Amazon, Ford, Tata Power, etc, thus saving your time and energy.
Other questions which are often asked are, What are the eligible organizations where you can pursue CMA article ship? In which department you can work for a CMA article ship?  Well, the answers to all your questions are in this one blog, so relax, sit back and keep on reading.
Well for starters, the organizations where you can look for CMA article ship vacancy includes
Cost accountants firm
Central Government/ State Government
Banks
Financial institutions
PSUs ( Public Sector Undertakings)
Universities
Any organization with a turnover of Rs. 25 Lakhs – service sector; Rs. 50 Lakhs – other than the service sector.
And the list goes on. So, by now you might have a clearer picture of where to look for an article ship. Now, when it comes to the departments you can choose to pursue your article ship includes
Management Accounting, Cost Accounting, Financial Accounting
Auditing
Direct and Indirect Taxation
Law
Banking
Insurance
Management Consultancy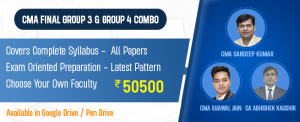 And so on. For better understanding you can Visit Toplad website as we have posted about the vacancies of some big companies, some of the companies about which Toplad has posted are:
Amazon
Amazon is the third most authentic brand in India. It has 41 fulfillment centers across 13 states and more than 20,000 Indian sellers. Amazon India currently offers millions of products on its platform and has millions of registered users. Amazon India currently offers products across various categories such as mobile phones, computers, and accessories, men's and women's fashion, books, sports & fitness, electrical & electronic items grocery items.
PROS of working in Amazon-
An employee's health is their main priority and they offer counseling services that are completely confidential and available 24/7. Parental leaves are also available.
Contact Details:
Address: Brigade Gateway, 8th floor, 26/1, Dr. Rajkumar Road, Malleshwaram(W), Bangalore-560055, Karnataka, India.
Phone: 8033273000
E-Mail ID: [email protected]
EY (Ernst & Young)
EY counts among the Big Four Auditing firms of the world. Ernst & Young is one of the largest professional service firms in the world. It offers assurance, Tax Consulting, Strategy Consulting, Data & Analytics, and Management. It also provides Consulting, Financial Advisory, Actuarial, and Legal services.
PROS of working in EY-
Pursuing an article ship from a company like EY can give you the best exposure to the corporate world and expand your horizons to different industries, they help you sharpen your soft skills and help you become your best professional self. Working in such a big company will also help you to build a wonderful CV.
Contact Details-
Address: Tower C, 3rd Floor, RMZ Infinity, Municipal No. 3, Old Madras Road, Survey No: 1477/2 & 10, Benniganahalli, K.R. Puram, Bangalore, India 560016
Phone: 08066813000 E-Mail ID: [email protected]
TATA POWER
Tata Power is serving more than 9.5 million distribution consumers in India and has developed the country's first 4150 MW Ultra Mega Power Project at Mundra (Gujarat) based on super-critical technology. It is also one of the largest renewable energy players in India with a clean energy portfolio of 30%.
PROS of working in Tata Power-
Tata Power is considered to be an ethical company that is employee welfare-oriented. It is a Tata Group Company, having the highest business ethics nationally and internationally. Tata Power treats its employees well and honest and competent employees feel secure.
Contact Details-
Address: Bombay House 24, Homi Mody Street Mumbai – 400 001, INDIA.
Phone: 2266658282
E-Mail ID: [email protected]

Deloitte
In terms of Revenue, Deloitte is considered to be the largest professional services network in the world. Also based on the number of professionals, it ranks at the top. Deloitte is known for providing audit, tax, consulting, enterprise risk, and financial advisory. They are the advisors to many of the World's most admired brands.
Pros of working in Deloitte-
In Deloitte, one gets to interact with the Partners and Directors who are all insanely brilliant. The company would be an edge, since the majority of the listed clients are with it, thus gives its employee the optimum exposure. A name like Deloitte in your CV can help you to enhance it.
Contact Details-
Address: Block C, Vanenburg It Park Plot Number 17, Software Units Layout, Madhapur, Hyderabad – 500033
Phone: 9866385315
E-Mail ID: [email protected]
PWC (PricewaterhouseCoopers Pvt Ltd)
The company ranks as the second-largest professional services firm in the world. The core vertices of the PwC are Assurance Advisory, Tax Advisory, Tax Consulting. Along with Strategy Consulting, Data & Analytics, Management, Consulting, Financial Advisory, Actuarial and Legal services.
Pros of working in PWC-
PWC gives its employee, the advantage at the time of post-qualification and also job security as most of the aspirants during their articleship period with the company are in most cases automatically offered a job in Big 4 once you have done your article ship from one of them it also provides decent study leave before the exam.
Contact Details-
Address: No.1 & 2, The Millenia, Tower D, 6th Floor, Murphy Road, Ulsoor, Bangalore – 560008
Phone: 8040794222
E-Mail ID: [email protected]
Apart from these, there are many more companies where you can apply to expand your horizons. The best part of going over the Toplad website is as we have a Job portal where we keep on updating all the new CMA articleship vacancies.