CA, CS, and CMA are all great professions. They all offer tremendous career opportunities and a great deal of respect. 
CA is mainly about finance, auditing, and taxation. CS involves a detailed structure for corporate law and corporate secretaries. While CMA offers an in-depth study on accounting and cost management.
All these professions have a lot of similarities, in terms of syllabus and course requirements. Another similarity is that they are all very demanding courses and after all the hard work and dedication, offer you a great future. 
Now, the question is, can you pursue all three together? 
Yes, you can do it!
But, should you? That question needs to be answered.
Having a certification in CA, CS, and CMA will bring you so much insight into all facets of these professions. You will be able to make better, holistic decisions if you are working as an advisor in a company. It will also open up a lot of opportunities and doors for you. Most of all, you will stand out among all your peers. 
However, pursuing one of these courses is challenging enough, to go for all three can be a risk. 
Advantages and Disadvantages of pursuing CA CS CMA Together
To understand the risk properly, let's look at what are the advantages and disadvantages of pursuing all these courses together. 
Advantages
3 courses have almost the same syllabus

Flexibility in job profiles, you can move across all domains of a business

Employers will seek you rather than you seeking them 

High earnings, Companies will bid salaries on you!

High respect among friends, family, and even the society

With a vast knowledge of all three fields, you will be able to make holistic decisions for the company you are working in and handle a variety of affairs, which will lead you to the highest positions in a company. 

Will stand out among your peers
Disadvantages
All three courses are pretty tough to complete. It will require a lot of hard work, dedication, and time. 

It will be a bit expensive to pursue all three

You cannot practice all three professions together. After getting certification in all, you will have to choose one of them to follow a career in. 

At the time of articleship, you will be able to study and take exams side by side, only if your firm gives you time and permission

For about 5 years, your life will be very hectic and mainly require you to focus all your time on studying. 
You can weigh the pros and cons but in the end, you have to decide for yourself, if all this is worth it or not. 
For more insight on subjects and syllabus for CA, CS & CMA, you can visit TopLad, the Largest online learning platform for CA CS CMA students. 
Now, if you do decide to take up this challenge, what is the best way to conquer it?
How do you pursue CA, CS & CMA Together?
If after careful consideration of what you want and what you are capable of, you decide to go for all three, here is how you can do it.
Start with clearing the CA foundation exam. Then you will be exempted from giving CS foundation exam as candidates who have cleared the CA foundation are not required to sit for the CS foundation

After that clear CA intermediate and you will be exempted from giving CMA foundation, hence 4 exams are done.

After that go for CMA intermediate and clear it.

Apply and go for CA articleship training and get exempted from CMA articleship training. CA training gives you maximum scope in terms of work opportunities.

During your training, you can give the CS Executive exam and clear it.

Complete your CA article ship and apply for exemption from the CMA articleship

Now, all that's left are the final exams of all three courses. Study hard and clear all of them

If you could not get an exemption from CS articleship, you will have to complete it now.

After this, you will have certification in CA CS & CMA!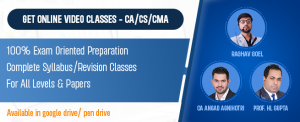 One thing to keep in mind is that this journey will be quite tough and one cannot get through it without some professional help. You will need experts in these filed to teach and guide you through. 
You can visit TopLad's CA CS CMA Online Classes and learn from the best faculty in India. 
The Bottom Line
So, yes! It is very much possible to pursue CA, CS, and CMA together but the decision of taking up this risky challenge should involve a lot of realistic thinking on your part. There are advantages and disadvantages to both which should be weighed.
Also, keep in mind that even after you get certification in all three, you will only be able to practice one of these professions. You can not operate as all three. You will though, know all three and be demanded highly by recruiters. 
So, the decision is yours. Make the right one for yourself!