Crash Courses have become quite popular among students. They are very eager to take the short and quick way of studying. But before you opt for the same methods, there are certain things you should know.  What crash courses are? what are their benefits? are they better than full time courses or can you pass your exam with them? In this article I will provide you with all the answers and then you can read on to find crash course for CMA Intermediate and final down below.
TABLE OF CONTENT
What are Crash Courses?
Benefits of taking a Crash Course
Crash Course VS Full Time Course
Can you pass your exam by just taking a Crash Course?
Crash Course for CMA Intermediate and Final
What are Crash Courses?
Crash Course is a short-term course, generally lasting for about a month or maybe a week or a few hours, covering the entire syllabus in a quick and less detailed way. Crash Courses are an overview or a summary of the entire syllabus. It is a quick way to learn all the important topics, brush up your knowledge or have a complete revision. 
Basically, it's like looking at something from above, getting an Ariel view of something so you can see everything there is but not go in too much detail about them. A crash course will cover all the important topics in the syllabus, some practice questions that can come in the exam, tips and techniques for acing your exam, quick ways to understand and calculate answers and more.
Crash Course goes through the syllabus, covering important topics quickly and less thoroughly.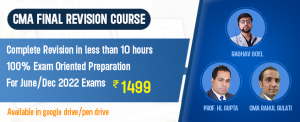 Benefits of Taking a Crash Course
Crash Courses can be really effective if used for the right reason and in the right way. It is a quick way to grasp a lot of knowledge about a topic. Let's see some of the benefits of taking a crash course:
Excellent way for Revision
Crash Course is an excellent way for revising the entire syllabus. Once you have covered all the topics and subjects thoroughly, you tend to forget a lot of it because of the amount of knowledge you acquired during the process, it's not possible to retain all of it. By taking a crash course you are revised of everything quickly and this time you won't forget it easily because you will be learning it a second time. 
Less Time consuming
As obvious, crash courses are quick and fast way to cover your syllabus. It's a less time-consuming method. If your exam is near and you haven't started your preparations yet then crash course are surly the way to go. You will cover a lot really fast. Starting a full course just before your exam will not be optimistic it would be like shooting an arrow with your eyes closed and hoping it will somehow reach its target. 
Much Cheaper
If you are studying for a promising degree like CMA, no doubts full course will be quite expensive. But a crash course will be much lower in prices and would be much more affordable. So, if money is becoming an issue, crash courses could be a bright light in the dark. 
Mock test papers and practice paper
A good Crash Course usually contains mock test papers or practice papers with solutions and how to solve them in the best way. They even provide tips and techniques to solve a question quickly and without any errors.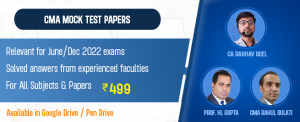 Exam day tips and doubt sessions
A reputed crash course will contain exam tips from professors which can be really helpful. They will give you more insight on question papers, pattern and how to solve or calculate answers the right and quicker way. It will also have a way for you to clear your doubts and reach out when necessary. 
Better Retention of information
It is much easier to retain information for a few days rather than weeks. Since crash courses are done just before examination there is better chance of remembering all that you studied.
Crash Course VS Full Time Course
Crash course can be a fast and effective way of learning but they have some relevant concerns that one needs to understand too. To better understand this, let's compare them with a full-time long course that covers the entire syllabus very thoroughly and in much detail, and takes months to complete. 
Understanding the syllabus
If you already have the basic knowledge about a topic, you know enough about it, then a crash course will be beneficial. But when starting from scratch, the very beginning, with no prior knowledge, it can be very hard or impossible to grasp all the topics. In a full time course a person can start from anywhere, any set of knowledge, he or she will be able to grasp everything much easily. Crash Courses are best done after doing a full course, since it provides revision and better retention of information.
In depth knowledge
A crash course does not provide you with in-depth knowledge about all topics. It also leaves out less important topics. So, it can be taking a chance with your exam, if the exam comes out difficult and detail-oriented that could be a major downfall. Also, just clearing the exam should not be your only motive, you will be working in this field as a professional and you certainly should have all the knowledge for it. The full course will provide you with all the details and cover all the topics so there is a higher chance of getting a high score and even topping the exam.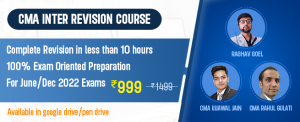 Can you pass your exam by just taking a crash course?
If you already have some prior knowledge about the topic and are not completely oblivious, then yes, taking a crash course could help you pass. But if you don't know about the topic much, then crash course might make you feel clueless. In case you haven't started your preparation for your exam and there is very little time left, then crash course is your best shot at passing. Hence, as I said in the beginning, crash courses can be really effective if used at the right time for the right reasons.
If you have done a full course then do opt for a crash course since it's a very effective choice for revision.
Crash Course for CMA Intermediate and final
Check out TopLad's capsule videos: Complete exam revision in less than 10 hours, check out the crash course for CMA Intermediate and final: TOPLAD CAPSULE VIDEOS
Click the link below for full time courses and more for CMA