Being a certified cost and management accountant opens up a lot of doors for you. Do you know you can also work in the Big 4!
CMA, Cost and Management Accountant, is one of the most promising certifications in the financial sector in India. CMAs working in organizations or various corporations will manage all the financial decisions and budgeting. They decide what to pay the employees, prepare budget sheets and handle overall costing in the firm. A cost and management accountant can do financial accounting, cost accounting, auditing, tax management, or consultancy for the firm he/she is working in.
Being a certified cost and management accountant opens up a lot of doors for you in terms of job, salary, and growth. After all the hard work and dedication, you put in to complete your course, you get to combine your theoretical and practical knowledge and show off your skills. And the best part? You can do that in various different kinds of organizations, departments, or areas, not just one. Whether you are looking for CMA firms to do your practical training or you are looking for a full-time job. Read on for the list of best CMA firms in Delhi, where you can start?
CMA firms registered for Practical Training/Articleship
The Institute of Cost and Management Accountants of India has provided the following CMA firms in Delhi, registered for CMA Articleship.
 Name: Jai Kishan Kabra
Name: Kailash Chander Kohli
Name: Suresh Mohan
Name: Radhey Shyam Aggarwal
Name: Rakesh Kumar
Name: Satish Chander Sharma
Name: Naresh Kumar Goel
Name: Shankar Rudra
Name: Pradeep Kumar J Kabra
Name: Ranjan Banerjee
For more ICMAI registered CMA firms Click Here

Other Great CMA Firms in Delhi
Godfrey Phillips India Ltd.
Poddar Global
Soma Isolux Kishangarh Beawar Tollway Private Limited
BDO International
National Handicapped Finance and Development Corporation
RSM Services
Lodha & Co.
Grant Thorton India
Desai Haribhakti
Suresh Surana & Associates LLP
The BIG 4 – CMA firm you can work in
The Big 4 refers to the 4 largest professional services networks in the world. Being a CMA you have the opportunity to work in the Big 4:
Deloitte Touche Tohmatsu Limited: Multinational professional services network with offices in over 150 countries. They provide auditing, consulting, financial advisory, risk advisory, tax, and legal services.
Ernst & Young: Multinational professional services network with offices in over 150 countries. They are headquartered in London. They provide financial audit, consultancy, tax, and advisory services. 
Price Water Coopers: Second largest professional services network in the world. They have offices in 157 countries
Klynveld Peat Marwick Goerdele: British – Ditch multinational professional services network has offices in 145 counties. They provide financial audits, tax, and advisory.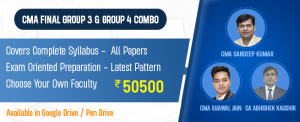 Things to Consider While Choosing a Company
There are several points to consider when putting yourself out in the job market so you end up with the right job. Have a look at them below.
Salary – Make sure the firm you are choosing meets your salary expectation. When working in a big firm, you should focus on learning instead of money, because the experience you will gain there would be very beneficial and if you do good you can always get salary increments later. Sometimes the name itself can do wonders for you. In average or small companies you should make sure to meet your salary requirements. 
Location – Where the company is located?. Would you have to relocate?. Are you willing to relocate? Check out all offices and the ones near you. Once you get the job you will be required to travel to the office at least five days a week (unless you are opting for work from home) and it might not seem like it before but it can make you very tired if the office is far from your home. So, location matter a lot. 
Growth Opportunities – The main thing we are looking for is career growth, isn't it? So, you need to know if the company holds growth opportunities as per your requirements or not. If you, as an employee will be able to learn and grow in your career working with them.
Work Culture – No matter how big the company, if the work culture is poor it's not worth it. How do they treat their employees? Is there too much stress and pressure in the environment? Do they care about employee welfare? If it is a big company then you can get all this information from the internet. Otherwise, you can have a chat with present or previous employees of the company to get some insights. You can also read employee reviews on google, glassdoor other several websites. 
Job Profile – Getting a good profile is equally important to the size of the company. There are a lot of companies that will be offering the profile you are looking for so you don't need to settle. Getting the right profile will ensure you learn and grow in the field of your choice and the field which has scope in the future.