If you are looking for step-by-step instructions on the CMA registration process, then you have come to the right place.
CMA Course consists of three levels, Foundation, Intermediate, and Final. To complete all these levels, you have to register, study and take exams. So, the first step here is to Register for these courses before you can sit for your examination. In this article, I will provide you with all the necessary information including CMA registration dates, the process for registration, where and how to register, fees, documents to upload, and more, so you have everything you need.
How do I register for the CMA?
CMA Foundation registration, CMA Intermediate registration, and CMA Final registration can be done in two modes: For the online mode of registration, you can visit ICMAI'S official website and register. For the offline mode of registration, you can download the form or get a physical copy from a regional office of ICMAI. The Institute of Cost Accountants of India urges you to complete your CMA registration through online mode to avoid fraudulently. 
Eligibility Criteria 
Before you register for your CMA course, you should first make sure you are eligible for it.
Eligibility for CMA Foundation
Candidate must have passed class 10th or equivalent from a recognized board or institution; or
Passed the Senior Secondary School Examination under the 10+2 scheme of a recognized Board or an Examination recognized by the Central Government as equivalent thereto or has passed the National Diploma in Commerce Examination held by the All India Council for Technical Education or any State Board of Technical Education under the authority of the said All India Council, or the Diploma in Rural Service Examination conducted by the National Council of Rural Higher Education. 
Eligibility for CMA Intermediate
Successfully passing CMA Foundation Course
Successful completion of 100hrs computer training
Eligibility for CMA Final
Successful completion of CMA intermediate course (both groups)
Successful completion of 10 months of Practical Training 
CMA Registration – Important Dates
ICMAI holds foundation, intermediate and final levels of examination twice a year, in the month of June and in the month of December.
CMA admission is open throughout the year. Students who wish to take the examination in the month of June must register on or before 31st January of that year. Similarly, students who wish to take the examination in the month of December should register before 31st July of that year.
| | |
| --- | --- |
| Last Date for registration for the June term | 31st January |
| Last Date for registration for the December term | 31st July |
If a candidate missed the above-mentioned last dates to register, a week's extension is available to register but an additional late fee will be charged.
If you are a student, then you may need some quality study material for your exams, You can click on these links to find CMA Books and Notes from some of the best CMA faculty in India.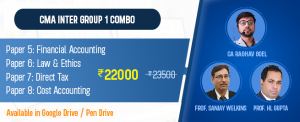 CMA Registration (Online) – Step-by-Step Instruction
You can follow these steps for CMA Foundation registration, CMA Intermediate registration, and CMA Final registration process.
Step 1 – Visit – ICMAI's official website
Step 2 – Click on the 'Students' tab
Step 3 – Click on the 'Admissions' tab
Step 4 – Click on red colored link 'Online admission' on the left side of the page
Step 5 – Choose which course to apply for – foundation, intermediate or final
Step 6 – Fill out the information asked. You will also have to select which type of coaching will you be taking for the respective course, oral or postal coaching. After filling in all the details, it will generate an OTP. After which Login credential will be sent to your registered email id. 
Step 7 – Now you can start filling out the admission form, fill in your details, verify them once again and save. 
Step 8 – After filling in the information, you will be required to upload the requested documents. 
Step 9 – Pay the registration fee. 
After you pay the fee for your registration, a receipt will be generated. Download it. Following these steps you can register for any of the three levels, just keep in mind the dates.
CMA Registration (Offline) 
To register offline, all you have to do is download the application form from ICMAI's website (you can follow the steps mentioned above to get to the form) fill it out and mail it along with the required documents to the nearest regional council. You can also get a physical copy of the application form from the regional council and fill it out.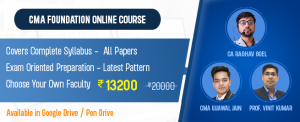 Documents to Upload/Send for CMA Registration
These are the documents you will have to upload during the registration procedure:
Passport size photo
Specimen signature
10th & 12th mark sheets
Age proof
CMA Foundation mark sheet (in case of Intermediate course)
CMA Intermediate mark sheet for both groups (in case of final course)
Looking for online classes and video lectures for your upcoming exams? You can check out TopLad and learn from the best CMA faculty in India. 
CMA Intermediate Online Classes
What is the CMA registration fee? 
During the registration process, students will have to pay a registration fee to complete the process. CMA Intermediate registration fees and CMA Final registration fees can be paid in two installments.
For the offline mode of registration, students can pay the fee by sending the challan to the regional council. 
Course
FEE
INSTALLMENTS
CMA Foundation Registration Fees
Rs.6000
 

CMA Intermediate Registration Fees

Rs.23100
Rs.12000
Rs.11,100
CMA Final Registration Fees
Rs.25000
Rs.15000
Rs.10000

Admit Card
A candidate must carry their admit card to the exam, without it they won't be allowed to give the examination. Admit card is not sent to students on email or phone number. It has to be downloaded from ICMAI's website portal. 
To download your Admit Card follow these instructions:
Visit – ICMAI's official website
Click on 'Admit card'
Enter your registration number
Download
After CMA Registration
The Institute of Cost and Accountants (ICMAI) will release an exam form soon after the registration period, it has to be filed by every registered candidate. If you fail to fill out the exam form, you will not be allowed to sit in the examination.
After registration, begin your preparation right away to ace your exam. Start looking through the syllabus and subjects to be covered and plan your time with proper management and strategy. The best way to prepare for your exams is to enroll in a coaching institute.
They will provide you with all the study material and notes you need and you can attend classes and understand all concepts perfectly. Coaching institutes also take practice tests and give you mock test papers to prepare you even better. They are your best shot at acing your exams.
What TopLad Offers:
Online Classes taught by the top faculties in India (English & Hindi)
CMA foundation, Intermediate and Final Courses (Individual subjects or combos)
Study Material – Books, Notes, practice manuals, video lectures (pen drive or google drive)
Mock Test Papers
Previous year question papers with solutions
Test series strictly as per exam pattern of Institute of cost accountants of India
Doubt sessions
Job Portal – With our job portal you can easily find job opportunities from the best organizations in India. Whether you have qualified for your CMA course, still pursuing it or looking for an organization for your articleship, you can find a job with TopLad. 
Quality learning and a faculty that you can trust
Check Out TopLad's CMA coaching program: