Today, everything is online. Food, clothes, grocery, household items, medicines, and various services; even we are online, most of the time on our social channels.
Whatever we need can be found on a website. Whatever we don't understand can be read somewhere on a blog. And now, after the pandemic hit, the education sector has also joined us. 
Students can now take online classes for courses like the company secretary and complete the entire degree from home. They can get all the guidance they need along with good resources online. Coaching institutes are now also selling and teaching everything in online mode. 
But the million-dollar question is "has the quality been affected?" or has this change been somewhat beneficial? Which is a better choice; online or offline mode of classes? How much do these classes cost? 
We'll answer all of these questions, but first, let's talk a little about the company secretary online course.
Company Secretary Online Course 
Company Secretary course has gained quite a lot of popularity among commerce students in the recent years. It's a very respectable job and the field shows a lot of opportunities for growth in a company. Students wanting to pursue this career are required to complete the company secretary course provided by the Institute of Company Secretaries of India (ICSI). 
This course consists of three levels of examination i.e., CSEET (Company secretary executive entrance test), CS Executive, and CS professional. Only after completing coaching classes and clearing all three examinations can a student be certified as a professional company secretary.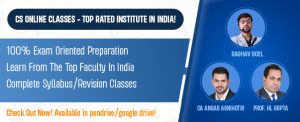 Syllabus of Company Secretary course as provided by ICSI:
CSEET
The CS Executive Entrance exam consists of 4 papers that are given below. For detailed information about each subject click on the respective paper.
CS Executive
Module I
Module II
CS Professional
Module I
Module II
Module III
Looking for company secretary online courses for CSEET, CS Executive, and CS Professional? You can check out TopLad's online courses provided by some of the best CS faculty in India.
What will you get in online courses?
Company secretary online classes will include paper vise or module vise lectures which can be provided to the student either via live classes or recorded video lectures in a pen drive or google drive link. 
Doubt sessions for students are held in live classes and for revision, students can either download recorded versions or attend live versions if the teacher is providing them.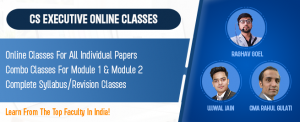 Why you should go for professional coaching for your CS courses?
Let's look at the reasons why you should definitely opt for professional coaching from reliable institutes for your company secretary course. 
It is a requirement to undergo oral/postal coaching from a recognized coaching center under the guidelines provided by the Institute of Company Secretaries of India.

To understand all the concepts of your course thoroughly. The topics are hard and one needs good teaching to correctly understand them all.

With CS classes you will also have the opportunities to clear doubts, which is the one thing you cannot do yourself.

The study material and tests you will get while taking the classes.

Everything you need will be provided in one place. You won't need to scatter around looking for anything.

A demanding course requires a high level of preparation

Teachers or faculties will give you the guidance and discipline you need

It is your best shot at success.

Online vs Offline mode of classes
Due to the covid-19 pandemic, a lot of coaching institutes had to shut down. Coronavirus has stricken this country with tremendous waves so many times, that a lockdown was always on the news. When owners were incapable of paying rents and bills, they had to shut down the institutes. Many institutes though, started online modes of coaching and have gained a lot of success in that matter.
Students opting for online classes are still much lower than offline, since many students who are not from well-off families don't invest in such education, but the education industry is transforming and everything will be available on online platforms in the future as it has already begun to.
Let's do a comparison between offline and online modes of education. 
Offline Classes pros:
Regularity/Consistency: when you are enrolled in a coaching institute for offline classes, you are provided a schedule where you have to show regularly. It builds a habit and consistency of studying every day at the same timetable.

Your teachers are available to clear your doubts right then and there

Institutes conduct regular tests and give out ranks to students so they can know where they stand

Teachers are there to guide you and take responsibility. They give you discipline.
Offline Classes cons:
Not much flexibility, have to adhere to the schedule provided by institutes

If you miss one class, you will be behind in the syllabus and not understand the next

You get one chance to understand everything whereas in online mode you can replay videos as many times as you want

You never know when our prime minister will declare a 21-day lockdown
Online Classes pros:
Flexibility: you can decide your own schedule and timetable

You can play recorded videos as many times as possible until you completely understand

If you are better at self-studying that's a pro

You can mix and match the faculties of your choice

A study from the comfort of your home saves time and efforts of traveling and makes you less tired

One can take classes from any institute all around the world

You won't jump out of your seat in surprise after hearing prime ministers' announcements
Online Classes cons:
You might not have the chance to clear your doubts

You might get lazy since there is no strict schedule to follow

Less guidance 
If you are a student looking for Company Secretary online courses you can check out TopLad's online CS classes from the best CS faculty in India.
How much will company secretary online courses cost? 
Online courses can sometimes be much cheaper and more affordable for students. Another pro of online classes is that there are separate courses available for different papers or different groups. So, if one feels confident in any one or two papers, they can choose not to buy that specific course and save money. Also, there are always discounts and offers available. 
Below we are providing you with an estimate of how much the company secretary online course cost.
Online courses for all papers of CSEET can cost somewhere around Rs 15,000 to Rs 20,000 in total. This will include live classes, video lectures, and some reference study material like notes or books. You can also get them at a lower rate which will reduce the benefits such as live classes may be excluded. 

A single module of CS executive can cost around Rs 20,000 to Rs 30,000. You can get cheaper rates if you buy at the time they are offering discounts. Websites come out with offers and discounts pretty often for their students so you can get a good deal on your company secretary's online courses. 

A single module of CS professionals will also cost somewhere between Rs 20,000 to Rs 30,000.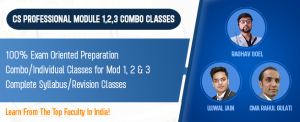 Why you should choose TopLad Online Classes?
TopLad is India's largest online learning platform for CS, CA & CMA. With some of the best teaching faculties in India, online classes, authentic study material, mock test papers, practice manuals,s and much more, we have helped thousands of students reach their dream of becoming a CS. CS course, no doubt is challenging, and it can take multiple attempts to clear all exams, but with the right coaching, the right strategy, and the right approach, we help our students clear exams in a single attempt and become successful in their career.
You can check out TopLad's combo offers for company secretary online courses: 
What TopLad Offers:
Online Classes taught by the top faculties in India (English & Hindi)

CSEET, Executive and Professional Courses (Individual subjects or combos)

Study Material – Books, Notes, practice manuals, video lectures (pen drive or google drive)

Mock Test Papers

Previous year question papers with solutions

Test series strictly as per exam pattern of Institute of Company Secretaries of India

Doubt sessions

Job Portal – With our job portal you can easily find job opportunities from the best organizations in India. Whether you have completed the CS course, still pursuing it, or looking for an organization for your membership training, you can find a job with TopLad

Quality learning and a faculty that you can trust
For more information check out our website: https://toplad.in/