What is ICAI Articleship?
ICAI articleship or CA articleship refers to the practical/industrial training every CA aspirant has to go through to complete their CA course and become a member of The Institute of Chartered Accountants of India (ICAI). It is gaining practical experience by working in an organization as a trainee and learning to apply theoretical knowledge to practical use in a professional field. Every student pursuing a career in CA has to do his practical training a.k.a. CA articleship, in accordance with the guidelines provided by ICAI.
ICAI articleship has to be pursued under a practicing chartered accountant or under a firm of chartered accountants. CA articleship duration will be of three years. According to the latest amendments proposed by ICAI, CA articleship duration will be reduced to 2 years. 
Objectives of ICAI Articleship
Swimming cannot be learned by just reading a book on how to swim. Similarly, the profession of chartered accountancy required a lot of practical learning. Theoretical knowledge or practical knowledge cannot make a perfect profession. You need both! 
ICAI articleship period will provide conceptual clarity and teach students how to apply their theoretical knowledge learned to practical use. 

Brings the discipline that a CA needs and develops the necessary skills for practical situations in the future. 

Students learn the ethical values required in a professional field

To provide job experience to students as future chartered accountants
Eligibility of ICAI Articleship
To be eligible to register for CA articleship, students must have cleared the Group 1 or Group 2  examination of CA Intermediate level. Students also must have completed four weeks of the Integrated Course on Information Technology and Soft Skills (ICITSS) and Orientation Course. 
ICAI Articleship Registration Process
How to register for articleship? 
Firstly, students should look for CA firms with vacancies for articleship trainees. After finding a firm for training, students must inform the institute within 30 days of commencement of their training. 
For informing the institute, an articleship registration form must be filled out along with submitting some requested documents. Candidates are required to fill out Form 102 and Form 103 and pay registration fees. You can either buy these forms from a branch of ICAI or download them online. If you choose the latter option, you will have to send a demand draft for Rs.50 to ICAI. Use the link provided below for ICAI articleship forms.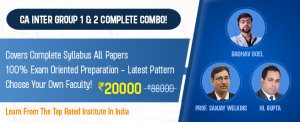 Along with filling out the form, you will be required to send some documents. Following is the list of documents that you will need. 
The certificate issued when you completed ICITSS (Integrated Course on Information Technology and Soft Skills)

Secondary/higher school certificate as proof for your date of birth

Marksheet for CA Intermediate Group1/Group2 or both
If in case students are pursuing or want to pursue any other courses or have any other engagement during articleship period, they must fill out Form 112. This form is to get permission from ICAI to pursue such other engagements.  
Late submission of Form 103
If a student fails to submit form 103 within 30 days of commencement of his articleship, then he must send a handwritten letter stating the reason for the delay along with the documents mentioned above. The letter should be signed by you and your principal (At the firm you are working for). A late fee will also be charged. 
ICAI might also ask for additional documents as proof of the reason mentioned for the delay. These documents will be:
Attendance records at the firm you are pursuing your CA articleship

Certified copy of your work diary

Your stipend details at the firm

The original deed of articles in Form 102
Looking for some quality CA study material for your exams? TopLad provides CA mock test papers, CA previous year papers, CA Notes, books, and much more! 
Where can you pursue your CA Articleship?
For your CA articleship, you'll need to find a CA or a CA Firm that has articleship vacancies. There are three different types of firms you can work for; big, medium and small. Which one to choose depends on your preferences and results. At the CA firm, you will be working under a principal who is a CA. 
Articleship in big 4 
Did you know you can also apply for CA articleship at the big 4? 
The Big 4 refers to the 4 largest professional services networks in the world. You have the opportunity to pursue your articleship in big 4. 
Deloitte Touche Tohmatsu Limited: Multinational professional services network with offices in over 150 countries. They provide auditing, consulting, financial advisory, risk advisory, tax, and legal services.
Ernst & Young: Multinational professional services network with offices in over 150 countries. They are headquartered in London. They provide financial audit, consultancy, tax, and advisory services. 
Price Water Coopers: Second largest professional services network in the world. They have offices in 157 countries
Klynveld Peat Marwick Goerdele: British – Ditch multinational professional services network has offices in 145 counties. They provide financial audits, tax, and advisory.
ICAI Articleship Exam/Assessment Test 
ICAI has introduced an articleship assessment test that all articles are required to give after completing their 1st year and 2nd year of training. This articleship exam is taken in the month of September. The duration of the ICAI articleship exam is of 2 hours for the 1st and 2nd years each. 
There is no set syllabus for the exam. The test is to examine how much knowledge and experience students have gained so far in their training. The total weightage for 1st year articleship exam is 75 marks and for the 2nd year is 100 marks. The test will be MCQ based with no negative marking. 
For more information, read our blog on articleship assessment tests.
ICAI Articleship Exam: Everything you need to know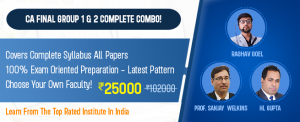 Articleship Stipend
The minimum stipend that articles must receive monthly has been set by ICAI. Principals must pay the following articleship stipend to their articles. 
| | | | |
| --- | --- | --- | --- |
| Particulars | 1st year of CA articleship | 2nd year of CA articleship | 3rd year of CA articleship |
| Cities with a population of 20 Lakhs and above | Rs.2000 | Rs.2500 | Rs.3000 |
| Cities with a population of 4 Lakhs and above but less than 20 Lakhs | Rs.1500 | Rs.2000 | Rs.2500 |
| Cities with a population of 4 Lakhs | Rs.1000 | Rs.1500 | Rs.2000 |
ICAI provides detailed instructions and guidelines for pursuing your articleship which must be followed strictly. You can refer to these guidelines from the link provided below. 
ICAI Articleship Rules and Guidelines
If you are looking for CA online classes from the best CA faculty in India, you can visit TopLad CA Online Classes
For more information regarding articleship or  CA online classes, you can mail us at [email protected] or call us on our toll-free number 18003091245 and talk to our experts for free.