Having proper CMA final study material, which is covering every essential topic in-depth and also in shortcuts for you to remember is very necessary.
CMA Final is the last and thus the most challenging level out of the three to crack. To ace this last level, you need the best study material and resources. Just like the intermediate level, CMA final level also has two groups, group 3 and group 4, which you can attempt together or individually, depending upon what is comfortable for you.
With the help of this article, you can grab the CMA final study material for both and also the effective ways to use those study materials.
Just keep one thing in mind whether you decide to attempt both groups together or separately, Firstly prepare and study for group 3 and then proceed with group 4, as starting both of them together can be very confusing, which will not only waste your time but also make it harder.
To start with, lets look at the papers you will be appearing for.
CMA Final Group 3 
Corporate Law & Compliance
Strategic Financial Management (SFM)
Strategic Cost Management- Decision Making
Direct Tax Laws and International Taxation
CMA Final Group 4
Corporate Financial Reporting
Indirect Tax Laws and Practice (ITP)
Cost and Management Audit (CMAD)
Strategic Performance Management and Business Valuation
Now, let's dig deeper regarding the CMA final study material you'll require for the same.
CMA Final study material
CMA Study material and resources that you must use for a complete and thorough preparation can include:-
CMA Books
Quality Notes
CMA Mock Tests Papers
CMA Previous Year Question Papers with Solutions
Crash Courses for revision
The Institute of Cost Accountants of India (ICMAI) provides CMA Final study material to their students. The study material covers the entire syllabus of the CMA exam. After the candidate's registration, the institute sends the study material for CMA final exam to their registered address.
Did you know? The institute also provides the option to download the study material from the official website.
Here is a link to their study material: ICMAI CMA Study Material
With ICMAI study material you can cover the basic syllabus, but in order to do a more effective preparation, you should look for more study material that can help you practice and make your preparation smoother.
Read on to find the download links to these study materials and tips on how you can use them.
Books and Notes
Books and Notes are always considered to be very effective, and one should always refer to them for a detailed study. Books can bring you a lot of resources together as they usually contain all essential information in one such as syllabus, mock test papers, practice test, and answers and basically acts like an all in one study material. Referring to notes and books is all you need to have detailed knowledge about the subject.
Notes can be used to understand some topics better. You can also use notes during the last few days when you are in a hurry to revise everything as soon as possible. It is always better that you simultaneously make your own notes as well while you are taking a course or studying a subject. Classify or categorize your notes as much as possible. Don't overload all into one. It is best to have separate notes for separate papers.
Here is a link to some good CMA Books: CMA Books
Authentic Notes from our faculties: CMA Notes
CMA Mock Test papers
Mock test papers are the most essential part of your preparations. For the best results, you should do one every day. At least 40% must be obtained in all of your individual papers in both groups. Attempt mock tests for all papers of both groups individually as well as together to ace them all.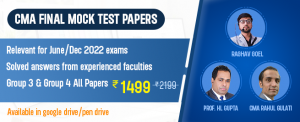 Some tips to use mock test papers effectively:
Attempt at least one mock test paper every day
Aim to complete it in exam time
Complete it in one sitting so you can get into the habit
Figure out your strengths (topics you are naturally scoring good in), your weaknesses (topics you need improvement in), and threats (topics which even after repeated studying you still cannot score in).
Focus on your weaknesses and leave your threats. You can not focus on your threats for too long as it will only cost you time.
TopLad provides you with Mock Test Papers for CMA final all subjects!
Here is a link for CMA MTP: CMA Mock Test Papers
Previous Year Question Papers
Previous year papers help you understand the pattern of your exam. You can analyse them and get a good idea of what exam is going to demand. Often questions are repeated every few years and sometimes similar question with different values are given again. So you see how practicing these papers is very essential.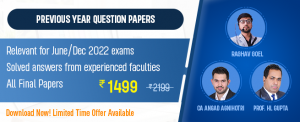 Before you start attempting the papers, firstly study the course properly. Study all the subjects and then only start attempting these papers, otherwise you will not be able to understand the questions, or answer them correctly and end up feeling demotivated. Also try not to see solutions in the starting, leave the question you don't know.
Observe exam pattern. What are the types of questions asked? Which topics arrive more frequently? Understand the question paper pattern and compare it with other previous papers to see if anything is common between them.
Learn how to best answer them, what information to provide. Also, how to not over do your answers and most importantly, understand the marking scheme.
Start attempting some papers and score yourself.
Learn the questions you don't know. Don't copy it from the solutions for your own satisfaction that you have attempted the whole paper.
Toplad provides previous year papers for final group 3 & 4 all subjects which are solved by best faculty in India. Start practicing now and get the best results.
Click Here to download: CMA previous year question papers
Crash Courses
Crash courses best comes in action when you have studied for months and completed your full courses, as they are best for revision. Crash courses are a quick and fast way to revise your syllabus. They cover most important topics quickly. When your exams are on your head, that is the best time for a quick revision of all the important topics and tips. It is almost impossible to retain all the information that you acquired through your studying and also to go through all the topics again in detail with books, that's where Crash course videos become your savior. Revision is very essential to hammer that information deep in your mind so you don't forget it.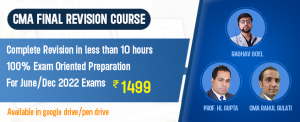 Complete exam revision in less than 10 hours, You can check out Toplad's video capsules, Click here to download: CMA Revision Classes