Company Secretaries have amazing job opportunities to explore in India and abroad! Let's have an overview of how a company secretary's career can look like
Company Secretary is one of the principal positions in a company. Also known as compliance officers, they are part of the key managerial personnel of any organization. Company Secretaries handle all legal aspects of a business, enterprise, or individual.
A CS' job responsibilities include maintaining and auditing a company's tax returns; advising and guiding the board with respect to the company's financial health; keeping records, and, most essential, ensuring that the company shows compliance with legal and statuary regulations.
Company Secretary is an incredibly respectable job with very appealing salary packages. It's something that sets you apart from the crowd and is just as demanding in terms of coursework and training. Today, almost every industry is in need of a company secretary. The demand for them is high and ever-growing. A career in CS is one of the top choices these days!
Company Secretary Job opportunities, Scope, and Demand in India – Overview
Company Secretary Course has become quite popular in India among commerce students. The demand for company secretaries in our country has been rising. More and more organizations are hiring and utilizing the services of a company secretary. Demand is high but supply is low. So, no doubt students won't have any problems finding the right job profiles and landing great packages.
CS is usually required when the business is quite a large scale and the burden of compliance increases, but they are needed in all kinds of firms. Companies that have a paid-up share capital of 10 crores or more are mandatory to have a company secretary.
CS also has opportunities to work globally in countries like Malaysia, Thailand, Canada, New Zealand, the USA, the UK, etc.
Company Secretaries can work in several different kinds of organizations in several different areas or departments. They can work in any corporate organization and handle all legal aspects.

Organizations and sectors in which a company secretary can work
Accountancy and solicitors' firms

Banks and building societies

Charities and hospitals

Educational institutions

Employers' cooperatives

Healthcare organizations, including the NHS

Housing associations

Insurance companies

Investment trusts

The local and central government

Trade bodies.
Company Secretary Job roles and different profiles
The job profiles that a CS-certified can get are mentioned below:
Assistant to the Board of Directors

Company Registrar

Legal Advisor

Corporate Policy Maker

Chief Administrative Officer

Principal Secretary

Corporate Planner

Chairman

Managing Director

Administrative Assistant

Administrative Secretary

Investor Capital Market Relations

Contents Coordinator
CS aspirants looking for classes and paper-vise courses can check out TopLad CS
We offer complete course videos for all levels, i.e., CSEET, Executive, and Professional, along with authentic study material, especially curated by our faculty.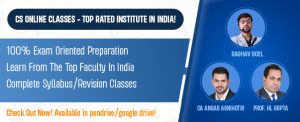 Salary of Company Secretary in India 
Well, salaries for any job can differ from person to person, company to company, and depend on many other major factors. It is quite hard to put an exact number on it. But after carefully gathering and examining a large amount of data, one can come to some average numbers.
Company Secretary's salary in India is pretty modest to even in the beginning and shows a lot of room for growth as the years go on.
Company Secretary's salary in India ranges from Rs 1.8L to 23.7L per annum, with an average annual salary of Rs 6.2LPA.
A fresher in this field can earn between Rs.20,000 to Rs.40,000 per month. Someone with an experience of 2-3 years can earn around Rs.70,000 to Rs.80,000 per month.
Again, the salary increment depends on an individual's skills and hard work. The salary for a company secretary can go up to Rs.100,000 per month with experience.
Starting Company Secretary Salaries in India according to Organization:
Private Limited – INR 25K – 30K

Public Limited – INR 30K – 40K

Public Listed – INR 40K – 45K
With an experience of 20 years or more, the highest salary of a company secretary in India can go up to INR 17LPA – 20.
Top Companies for Company Secretary Jobs in India
A Company Secretary can work for several different organizations in numerous different areas, as already mentioned. Therefore, the number of companies they can apply for is also many. Some of the top companies that are considered best for CS jobs as well as internships are given below:
Deloitte Touche Tohmatsu Limited:

Multinational professional services network with offices in over 150 countries. They provide auditing, consulting, financial advisory, risk advisory, tax, and legal services.

Ernst & Young:

Multinational professional services network with offices in over 150 countries. They are headquartered in London. They provide financial audit, consultancy, tax, and advisory services.

 
Price Water Coopers:

Second largest professional services network in the world. They have offices in 157 countries

Klynveld Peat Marwick Goerdele:

British – Ditch multinational professional services network has offices in 145 counties. They provide financial audits, tax, and advisory.

Reliance:

Indian multinational conglomerate company, headquartered in Mumbai. Reliance is one of the largest profitable companies in India. It is also the 10th largest employer in India with over 236,000 employees.

TATA:

Indian multinational conglomerate company, headquartered in Mumbai.

it is India's largest conglomerate, with products and services in over 150 countries, and operations in 100 countries across six continents.

Bajaj:

the group comprises 34 companies and its flagship company Bajaj Auto is ranked as the world's fourth-largest two- and three-wheeler manufacturer.

ITC Limited:

Indian multinational conglomerate company, headquartered in Kolkata.

ITC has a diversified presence across industries such as FMCG, hotels, software, packaging, paperboards, specialty papers, and agribusiness. The company has 13 businesses in 5 segments. It exports its products to 90 countries. 
If you are a student looking for company secretary video lectures and courses from some of the top CS faculty in India. You can check out: TopLad CS video lectures.
How to Find Company Secretary Jobs in India?
Finding a job is easy. Finding a good job can be challenging, especially if you don't know where to look for. 
The very first thing you need to do is to make sure you have an updated resume. If you are at the exploring stage and are applying for several different positions then you will need different resumes for different positions. 
After you got your resume done, the next step would be to start making profiles on job-seeking platforms. Remember to add as much information as you can to these profiles to highlight your best skills and experience. 
Here are some platforms you can try:
Another thing you can do is to search for good companies near your location or according to the job profile you want to apply for and keep checking their website for available jobs. You can also ask around your friends and family for recommendations on good companies. 
Things to Consider while choosing a Company
There are several points to consider when putting yourself out in the job market so you end up with the right job. Have a look at them below.
Salary

– Make sure the firm you are choosing meets your salary expectation. When working in a big firm, you should focus on learning instead of money, because the experience you will gain there would be very beneficial and if you do good you can always get salary increments later. Sometimes the name itself can do wonders for you. In average or small companies you should make sure to meet your salary requirements. 

Location

– Where the company is located?. Would you have to relocate?. Are you willing to relocate? Check out all offices and the ones near you. Once you get the job you will be required to travel to the office at least five days a week (unless you are opting for work from home) and it might not seem like it before but it can make you very tired if the office is far from your home. So, location matter a lot. 

Growth Opportunities

– The main thing we are looking for is career growth, isn't it? So, you need to know if the company holds growth opportunities as per your requirements or not. If you, as an employee will be able to learn and grow in your career working with them.

Work Culture

– No matter how big the company, if the work culture is poor it's not worth it. How do they treat their employees? Is there too much stress and pressure in the environment? Do they care about employee welfare? If it is a big company then you can get all this information from the internet. Otherwise, you can have a chat with present or previous employees of the company to get some insights. You can also read employee reviews on google, glassdoor other several websites. 

Job Profile

– Getting a good profile is equally important to the size of the company. There are a lot of companies that will be offering the profile you are looking for so you don't need to settle. Getting the right profile will ensure you learn and grow in the field of your choice and the field which has scope in the future. 

Find Jobs with TopLad's Job Portal
TopLad is India's largest online learning platform for CA, CS, and CMA students. Along with providing coaching classes, video lectures, live sessions, and study material such as mock test papers, previous year papers, notes, and more, we have a job portal! You can find jobs for company secretaries in major companies with great salary packages. We have helped thousands of students find jobs through our portal. These jobs are regularly updated and even semi-qualified and students looking to do their CS membership training can also apply. 
Check Out TopLad's Job Portal to find amazing job opportunities from top companies.
To summarize 
Company Secretary is one of the very respectable jobs with very appealing salary packages. It is high in demand and the scope is also rising more and more every day. One can also find jobs internationally in this field. There are a lot of choices in terms of job sectors and profiles to work in. Company Secretaries can work in large multinational companies and make their way up to top positions. While the size of the company and the salary packages matter, it is equally important to pay attention to other details in a workplace such as work culture, working conditions, location, profile, and growth opportunities. 
Finding a job might be easy but finding a good job according to your needs can be difficult. That is why it is recommended to try out different platforms, make profiles and explore before you make a choice. 
Checkout TopLad's Job Portal to know the latest job openings around India.