Where, How, and When to register? step-by-step instruction for online registration for your CSEET exam.
CSEET is the entry level exam for the course of company secretary in India. CSEET exams are held four times in a year, in the month of January, May, July and November. The Institute of Company Secretaries of India (ICSI) holds this examination. Students wanting to enroll in executive program and appear for its examination will have to clear CSEET first or apply for an exemption if they are eligible for it.
In this article, we will take you through CSEET registration process, step by step instructions on how to apply, CSEET registration fee, documents you will be required to upload, important dates to remember and more. So, at the end of this article you will have all the information you need!
Where can you Register?
CSEET registration can be done in two modes: online or offline. For online mode of registration, you can visit ICSI'S (The Institute of Company Secretaries of India) official website and register. For offline mode of registration, you can download the form or get a physical copy from a reginal office of ICSI. The Institute of Company Secretaries of India urges you to complete you CSEET registration through online mode to avoid fraudulently.
CSEET Eligibility Criteria
Before you begin with your registration, make sure you are eligible for it.
A candidate wanting to register for CSEET examination must meet the following eligibility criteria:
The candidate must be 17 years old or above
Candidate must have passed class 12th in any discipline except fine arts from a recognized board or university
Graduates and Post Graduates can also apply
Exemption from CSEET
There is a direct entry route to CS executive program, by applying for exemption. If you meet the conditions of the exemption, you will not be required to sit for CSEET and can directly enroll in CS Executive.
Under the following conditions, a candidate can apply for exemption form CSEET and directly move on to the next two levels of CS course:
If the candidate has passed the final level examination of the CA course granted by The Institute of Chartered Accountants of India.
If the candidate has passed the final level examination of the CMA course granted by The Institute of Cost and Management Accountants of India.
CSEET Registration: Important Dates
CSEET registration is open throughout the year but students appearing for either January term, May term, July term or November term will have to register accordingly.
Here are the important dates of CSEET Registration
| | |
| --- | --- |
| Exam Term | Last Date |
| January Term | November 21 – December 15 |
| May Term | January 21 – April 15 |
| July Term | May 21 – June 15 |
| November Term | July 21 – October 15 |
If a candidate missed the above-mentioned last dates to register, a week's extension is available to register but an additional late fee will be charged.
How To Register for CSEET – Step by Step Instructions
Follow these steps for an easy and simple CSEET registration:
Offline mode
For offline registration, you can download the application form from the official website of ICSI and print it out or you can get one directly from a regional council/chapter. After that you will have to fill it out and submit it along with the registration fee and documents required to the regional council/chapter itself. You would have to submit a challan for the fee paid.
The Institute of Company Secretaries of India urges students to apply online for security reasons. The online process is also much easier and smoother to follow.
Online mode
For the online mode of registration, you can visit the official website of ICSI.
Follow the steps given below to register for the course online.
Step 1: On the website, click on "Online Services"
Step 2: From the dropdown menu, choose "Register for CSEET"
Step 3: Read the details provided and click on "proceed with registration"
Step 4: Now, you will be required to fill out your details and upload the requested documents
Step 5: After filling out your details and uploading documents, the final step is to pay the CSEET registration fees.
Step 6: Complete payment and save the transaction ID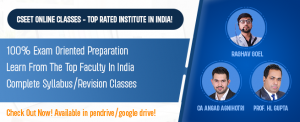 Documents to Upload for CSEET Registration
Following are the documents that you will be required to upload while registration
Your photograph
Your signature
Category certificate (if availing concession)
Specification of Documents
| | |
| --- | --- |
| File Format | All files to upload should be in the following format (jpg, jpeg, png, gif, bmp, pdf) |
| Maximum File Size | 2 MB |
| Photograph Size | 20kb – 50kb |
| Signature Size | 10kb – 20kb |
CSEET Registration Fees
CSEET Registration Fees is Rs.1,000/- (Rupees One Thousand Only) per appearance. It has to pay while registering to complete the process successfully.
Students belonging to certain categories can avail of concessions on fees following verification and submission of required documents.
Concessions in the registration fee for CSEET
| | | |
| --- | --- | --- |
| Category | Concession | Fee to be paid |
| General and OBC | NA | 1000 |
| SC/ST | 50% | 500 |
| Physically Handicapped | 50% | 500 |
| Serving / Retired Personnel of Defense Services and Paramilitary Forces | 50% | 500 |
| Students from the North Eastern States, Andaman & Nicobar Islands, Lakshadweep & Himachal Pradesh | 50% | 500 |
| ICSI Staff and Wards / Spouse of ICSI Staff | 75% | 250 |

What After Registration
After you have successfully registered, save all your account details such as transaction id, registration number and all other login details.
Exam Form
The Institute of Company Secretaries of India will release an examination form. You will have to fill out that form and pay the fee in due time. Only after paying the exam fee, you will be able to sit in the examination.
Admit Card
Students must download their admit cards from the official website of ICSI. Without the admit card they will not be allowed entry into the examination hall.
After registration begins your preparation right away to ace your exam. Start looking through the syllabus and subjects to be covered and plan your time with proper management and strategy. The best way to prepare for your exams is to enroll in a coaching institute. They will provide you with all the study material and notes you need and you can attend classes and understand all concepts perfectly. Coaching institutes also take practice tests and give you mock test papers to prepare you even better. They are your best shot at acing your exams.
Check Out TopLad – India's Largest Online Learning Platform