Download CSEET study material books, notes, scanners, previous year papers, mock test papers. ICSI provides CSEET study material for all modules.
Company Secretary Entrance Executive Test (CSEET) is the entry-level examination that one has to clear in order to be eligible to apply for CS Executive program. This level covers and focuses on the very basics of the company secretary course. Earlier, CSEET was known as CS Foundation. CS Foundation program was discontinued and students now need to refer to the CSEET syllabus provided by the Institute of Company Secretaries of India (ICSI). 
For a course like the Company Secretary course, it is very essential for students to be in possession of the right quality study material. ICSI provides CSEET study material to its students to help and guide them through their studies and preparation. They can be downloaded from their official website. CSEET study material can include books, notes, scanners, previous year papers, mock test papers, etc. 
ICSI CSEET Study Material
The Institute of Company Secretaries of India provides CSEET study material on their official website that students can download and refer to. Paper vise or subject vise study material can be found there.
If you wish to download the material, follow the instruction given below.
Step 1: Go to the official website of ICSI
Step 2:  Move your mouse over to the  "STUDENT" tab
Step 3: Click on CSEET and Click on "Reference Reading Material"
Step 4: A new page will open. you will find links for study material, which you can download or print out for your reference
You can also use these direct links to ICSI CSEET study material and download paper-wise pdfs. Click on the links below for paper-wise study material.
| | |
| --- | --- |
| CSEET Papers | Download Links |
| Business Communication (CSEET Paper-1) | Click Here |
| Legal Aptitude and Logical Reasoning (CSEET Paper-2) | Click Here |
| Economic and Business Environment (CSEET Paper-3) | Click Here |
| Current Affairs, Presentation and Communication Skills (CSEET Paper-4) | Click Here |
CSEET Book Recommendations
Books are a very important resource for any exam. They provide very detailed and descriptive information about subjects. A good book will contain everything you need such as the syllabus, chapter vise study, test series, past year papers, solutions, and more. They even consist of flow charts, images, and summarized theory for easy understanding. It is highly recommended to use books for your executive exam preparation. 

Books for Business Communication
Business Communication by  J.Priyadharshini, Dr.B.Joy Suganya

Business Communication (CSEET New Syllabus ) Part 2 by  CA Vivek Dharamshi

Business Organization and Communication by  Dr. S.C. Saxena
Books for Legal Aptitude and Legal Reasoning
Legal Aptitude & Reasoning by Disha Experts

Study Material of Legal Aptitude Logical Reasoning and Indian Constitution by Faculty of Bhardwaj Law

Model Scanner CSEET Paper – 2, Legal Aptitude and Logical Reasoning (Green Edition) by CA Amar Omar, CA Rasika Goenka
Books for Economic and Business Environment
Economic & Business Environment (CSEET – New Syllabus 2020) Part 1 & Part 2 Full Syllabus by CA Vivek Dharamshi

Business Environment: Latest Edition 2020 by  Dr. V. C. Sinha

Business Environment Paperback – 27 August 2018 by Paul (Author)
Books for Current Affairs, Presentation, and Communication
CSEET New Syllabus – Current Affairs, Presentation and Communication Skills by CA Vivek Dharamshi.
Business Communication (CSEET New Syllabus ) Part 2 Only Paperback – 1 January 2020 by CA Vivek Dharamshi.
Best Publications for CSEET Books
Best publications that are recommended for CSEET Reference Books.
Scanner

Dharamshi

Guptha

Sugaya
Best Books for Self Study
Self Study books recommended by Top students
Taxman's books

Dharamshi Books

Scanner Books

Mock Test, Notes, and Previous Year Papers
CSEET Previous year's papers
Previous year's papers help you understand what is the pattern of the exam, what kind of questions will come and how to answer them correctly. By carefully reading and analyzing papers for the past few years, you can gather this information.
Before you start attempting the papers, firstly study the course properly. Study all the subjects and then only start attempting these papers, otherwise, you will not be able to understand the questions, or answer them correctly and end up feeling demotivated.

Once you have studied, start reading all of them thoroughly to understand the exam pattern, what kind of questions are asked? What are the different sections? Which topics arrive more frequently? Understand the question paper.

Learn how to best answer them, what information to provide and how to not overdo your answers. Understand the marking scheme.

Start attempting some papers and score yourself.

Learn the ones you don't know
CSEET Mock Test Papers
Mock test papers are the most essential part of your preparation. You should attempt one every day.
Attempt at least one mock test paper every day

Aim to complete it in exam time

Attempt it in one sitting so you get used to it

Keep a record of your daily scores and evaluate

Figure out your strengths, weakness, and threats (topics you score extremely low in and cannot improve). Improve on your weaknesses and try to leave out your threats. This helps decrease any negative marking.

See which sections need help and practice them more
A good set of notes is a must for every exam. They can help your understanding of a subject and also provide a way for revision. It's always advised to make your own notes too while you take classes or do self-study as they will be the most beneficial to you.
When you are finished with one subject, go through the notes for a quick revision. Also, do the same a few days before your exam. It is recommended that you focus on notes and mock test papers during the last week of your exam and not study anything new. 
You can check out TopLad's CSEET notes curated by our faculty!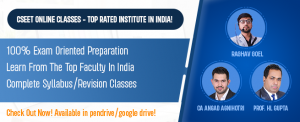 Study Tips to Ace your Exam
Along with your coaching classes and lectures include a few hours of self-study every day. 

As you complete the syllabus of one paper, start practicing mock test papers or previous year papers for it. 

Allocate some extra time just for reading. Reading about relevant topics or books about your course can expand your knowledge and level of understanding.

Plan out a schedule of studying in such a way that you give yourself sufficient time to study and also do other things you love every day. 

Instead of just focusing on a single subject for too long, try to inculcate other subjects side by side. 

If you have an obligation or some other important things to do someday, make the best of online video lectures as they can be viewed anywhere at any time. 

Revise, Revise and Revise. Before your exam or after you complete the syllabus of a paper, make sure to do proper revision.