How long does it take to complete the chartered accountant course and become a CA in India? Read the article to find out!
It has become a silly joke among students and meme creators that completing the CA course and becoming a chartered accountant can take an extremely long time. We often come across memes depicting that a student has now become an old man after finally becoming a CA. Yes, that's funny, but is it true? 
Many students dread pursuing the CA Course after the 12th because they fear that it might take too much time and effort. 
Does it really take that long? We need to know what's real and what is just a myth. 
It takes about 3.5 years to complete the entire Chartered Accountant course, including all three levels i.e. Foundation, Intermediate, and Final as well as all the practical training. 
Let's take a look at this in detail to understand how. 
Chartered Accountant Course Duration
So, to start with, we have the CA Foundation course. It is the very first level in your Chartered Accountancy course. The study period for CA Foundation is – 4 months
The waiting period for declaration of result is – 2 months
That gives a total of 6 months to get through CA Foundation. 
Then comes the CA Intermediate course. The study period is for – 8 months
The waiting period for declaration of result is – 2 months
After giving the exam, it is recommended to complete your ICITSS during the 2 months period of waiting for your result. 
That brings us to 10 months for the CA Intermediate. 
It has only been 16 months since you completed your 12th, less than one and a half years, and ⅔ levels of your CA course are done! 
After completing CA Intermediate, you start your CA articleship which was previously for 3 years but has now been brought down to 2 years according to the latest amendments proposed by ICAI. 
The exam for CA Final is given in the last 6 months of your articleship. So by the time you complete your articleship, your chartered accountant course is finished. 
Now, if you calculate, that makes the CA course duration to be of 3.5 years. It was previously 4.5 years with the 3 years of articleship. 
So, it only takes 3.5 years to become a CA! 
Want to learn how much it costs to become a CA? Read our blog about the CA course fee structure 2022. 
CA Course Fee Structure 2022 – How much does it cost to become a CA?
There is one condition in completing your CA course in 3.5 years. That is you must clear all exams in a single attempt. The students who complain about the CA course duration being too long are the ones who might have taken multiple attempts to clear all levels which made the course seem really long. So if you work hard and prepare well, you will surely ace your exam in a single attempt.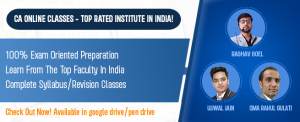 CA Course After The 12th
CA Foundation
The very first level in the chartered accountant course is the Foundation course. You can register for the CA Foundation as soon as you receive your admit card for the class 12th board exams. You will be eligible to appear for the examination after clearing the board exams. 
Immediately after finishing 12th, you can register and begin your 4-month study period by taking CA Foundation Online Classes, give your exam and move to the Intermediate level. 
CA Intermediate
After clearing class 12th and the Foundation exam, students can register for CA Intermediate. You have to register 8 months before the first day of the month in which the exam will be held. Right after the exam, students have to complete 4 weeks of Integrated Course on Information Technology and Soft Skills (ICITSS). 
There are two groups in the Intermediate level. Exams for both groups can be taken together or individually. Students can begin their training after giving the exam for any one of the two groups. The training is mandatory and must be completed before you can start your articleship. 
Want more information on what you will be studying at the CA Inter level? Check out CA Intermediate syllabus and CA Inter Online Classes
CA Final and Articleship
Students can start their articleship after clearing any one of the groups of CA Intermediate. In your articleship you will start earning a stipend too. The CA Final exam can be given in the last 6 months or even after that. You can take CA Final Classes and start your preparation while doing your articleship. Students must complete 4 weeks of Advanced Integrated Course on Information Technology and Soft Skills (AICITSS) before appearing for exams. 
Conclusion
So, now we know how many years it takes to complete the Chartered Accountant course. CA course duration after 12th is about 3.5 years. The condition of this is that all exams must be cleared in a single attempt. If reattempts are counted, you can add a year or two depending on the number of attempts. 
We hope that we have cleared your doubts and answered the question we mentioned at the beginning of this blog. If you still have some doubts or are looking for some professional advice or coaching you can mail us at [email protected] or call us on our toll-free number 18003091245 and talk to our experts for free. Check out our website – https://toplad.in/