CMA Foundation result are declared by ICMAI on their official website soon after the examinations are held. It takes only 4-6 weeks for ICMAI to announce the results. To check the result, students must keep their registration number handy. They will be required to type in the registration number to view and download their results. 
In this article, we will tell you how to check CMA Foundation result, how to download your scorecard, the details that will be mentioned on your scorecard, what is the passing criteria and pass percentage. We will also talk about how to get your answer sheets and verify them in case of any discrepancies. 
When CMA Foundation Result Will Be Declared? 
Results are declared by ICMAI (The Institute of Cost Accountants of India) on their official website soon after the examination is held. ICMAI releases results through online mode on their website portal where you can easily check and download your results. They take approximately 40 days or 6 weeks after the examination to declare results. For example, if your exam was held in the month of December, then the expected date would be somewhere in February or March. So, the wait isn't long. Your result will soon be in your hands and the peace of mind you are craving will be yours to keep. 
How To Check CMA Foundation Results? 
Results will be declared on the official website of The Institutes of Cost Accountants of India – ICMAI. 
Keep checking the website for new updates and announcements to know when they will be declared. The link for the result will be present on the website once they are out. For more detailed instructions on how to check CMA Foundation result, follow the steps given below. 
Here is a detailed step-by-step instruction on how to check your results:
Step 1 – Visit – ICMAI's official website 
Step 2 – Click on the 'Students' tab
Step 3 – Click on the 'Examination' tab
Step 4 – Click on 'Results' 
Step 5 – Click on the link for CMA Foundation result
Step 6 – Click on 'check your results online and enter your registration number to see your result. 
Note: You can use this direct link to the results page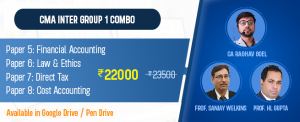 Details Mentioned on CMA Foundation Result
The following are the details that will be mentioned in your result. 
Name of candidate

Roll number

Identification number

Marks obtained in each paper

Total marks 

Status of exam
CMA Foundation Result – Passing Criteria
CMA exam is quite challenging, we all know that and the competition doesn't make things any easier, but only harder. Hence the expected passing percentage is never too high. To pass your CMA Foundation exam, you need a minimum of 40% in all individual subjects and an aggregate of 50% in total. So, if you studied well and understood all the concepts and topics thoroughly, then surely you will be able to pass and perform well on your CMA exam. 
Looking for CMA Foundation, Intermediate or Final online classes, or video lectures from India's top CMA faculty? You can check out TopLad. 
When And How To Obtain Your Answer Sheets? 
ICMAI provides the option to obtain your CMA Foundation exam answer sheets so students can verify the marking. If any student feels there might have been some errors in checking, he can apply to obtain his answer sheets and verify them. 
Students can only apply to obtain their answer sheets within 21 days from the date of declaration of result. After that, they will not be entertained. 
Here are the step-by-step instructions on how to apply
Step 1 – Visit – ICMAI's official website 
Step 2 – Click on the 'students' tab
Step 3 – Click on the 'Examination' tab
Step 4 – Click on 'procedure for obtaining certified photocopies of answer sheet'
Note: you will be charged a fee of Rs.500/-paper
Procedure for Verification of CMA Inter Result
After checking your answer sheets if you find errors in checking you can apply for verification of your answer sheets.ICMAI provides you with a 30-day window after the declaration of the result to apply for verification. ICMAI provides verification for two reasons. 
If one or more answer is left unchecked or unmarked.

If there is an error in the calculation of your total marks.
No other doubts will be verified. 
Note: you will be charged a fee of Rs.250/-paper. If they find an error during verification, you will be notified and the fee will be refunded.
Instructions on how to apply for verification of your result
Step 1 – Visit – ICMAI's official website 
Step 2 – Click on the 'students' Tab
Step 3 – Click on 'Examinations' 
Step 4 – Click on 'procedure of verification of answer papers 
Click Here for CMA Study Material, mock test papers or previous year papers.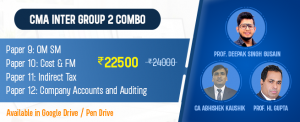 Career After CMA
If you have cleared your CMA Foundation exam or you need a reminder of why you are working so hard, then maybe these points can help. CMA as a career offers you a large number of career prospects. From high growth opportunities to high salary packages, CMA offers you all the skills to land a great job. The average salary for a fresher in CMA in India is 7lakhs per annum and can even go higher. After the successful competition of CMA, you will have numerous doors and opportunities open to you. You just have to walk through the right door and grab the best opportunities. It also offers you opportunities to work globally.
Salary to Expect if You are CMA Aspirant
Benefits of a career in CMA:
Great Job Opportunities
CMA course can throw some really good job opportunities your way. You can work in huge organizations, corporations, and multinational companies with a terrific job profile and climb up the ladder as high as you want and work hard. Companies such as ITC, ICICI Bank, Wipro, Ford, Amazon, Accenture, Larson, and Toubro are regular recruiters. CMA can also land you managing positions in public and private sector enterprises like Managing Directors, Finance Director, Financial Controller, Chief Financial Officer, Cost Controller, Marketing Manager, and many other important positions.
High Salary 
With great jobs comes great responsibilities comes great salaries. No doubt CMA can lead to high earnings. A student who has cleared intermediate group 1 level can get between 1 – 6 Lakhs per annum, and after clearing group 2, if he/she scored top rank in the examination can get between 3.8 – 17 Lakhs per annum. But this is just the salary before even completing the entire three-level course. A CMA certified (who has cleared all three levels) can get a starting salary of 7 – 20Lakhs per annum. High positions such as CFO (Chief Financial Officer) can earn up to 40Lakhs per annum.
Global Opportunities
Demand for CMA is not just in India but all over the world. A CMA certified can even get opportunities to work globally in continents like America, Europe, Africa, the Middle East, etc. 
Business Appeal
Another great benefit of pursuing CMA is how it provides you with knowledge of business and accounting together. You can therefore work in business associations and make important business decisions and handle other operations very well. 
Here are some career prospects that you can pursue:
Financial Manager

Chief Financial Officer

Corporate Controller

Financial Analyst

Cost Accountant

Chief Investment Officer

Financial Controller
Check Out Our Blog on CMA Jobs for More insights on Career After CMA
For more information on CMA Inter result, CMA course details, CMA classes, lectures, or study material, you can visit TopLad CMA. We offer classes for all levels and papers from India's top faculty.