CMA Foundation is the first level of examination in your CMA course. CMA Foundation study material will include books, notes, mock test papers, past year papers, test series, and practice manuals.
There are three different levels in the CMA course namely CMA Foundation, CMA Intermediate, and CMA final. The very first level as we know is the foundation level which focuses on the basics of this course. Once you clear that, then you can move on to the next two levels and become certified. And to do that successfully, you need resources,i.e., some of the best quality CMA study material, which can help you understand the topics more effectively and efficiently.
In this article, we will provide you with all the essential CMA Foundation study material you need for your preparation and how you can use them to get great results.
CMA Foundation Study Material 
Here is a list of study material you will surely need for successful exam preparation:
CMA previous year question paper with solutions

CMA Mock test papers
Capsule videos
CMA Books
Notes
Test series and practice manuals
The Institute of Cost Accountants of India (ICMAI) also provides CMA Foundation study material and covers the entire syllabus but, usually, they take about a month to get the study material delivered to you. So the better way would be to visit their official website and download ICMAI study material.
Now, the material they provide is not sufficient enough for you to score well, you have to expand your horizons, and that's where CMA previous year question papers and CMA mock tests come into the picture.
CMA previous year question paper with solutions
Previous year papers help you understand what is the pattern of exams, what kind of questions will come and how to answer them correctly. By carefully reading and analyzing papers for the past few years, you can gather this information.
Before you start attempting the papers, firstly study the course properly. Study all the subjects and then only start attempting these papers, otherwise, you will not be able to understand the questions, or answer them correctly and end up feeling demotivated.
Once you have studied, start reading all of them thoroughly to understand the exam pattern, what kind of questions are asked? What are the different sections? Which topics arrive more frequently? Understand the question paper.
Learn how to best answer them, what information to provide and how to not overdo your answers. Understand the marking scheme.
Start attempting some papers and score yourself.
Learn the ones you don't know
CMA Mock Test Papers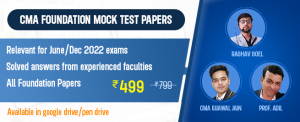 CMA Mock test papers are the most essential part of your preparation. You should attempt one every day. You are required to get a minimum of 40% in all individual papers of both groups. Attempt mock tests for all papers of both groups individually as well as together to ace them all. Going through CMA mock test papers before the exams are one of the most essential parts of your preparation, and can help you to understand your strengths and weaknesses.
Attempt at least one mock test paper every day
Aim to complete it in exam time
Attempt it in one sitting so you get used to it
Keep a record of your daily scores and evaluate
Figure out your strengths (where you score well already), weaknesses (topics you score low in but can study more and improve), and threats (topics you score extremely low in and cannot improve). Improve on your weaknesses and try to leave out your threats. This helps decrease any negative marking.
See which sections need help and practice them more
CMA Foundation Mock test papers all subjects. The best way to achieve results.
Capsule videos
Once you have studied for months and completed your full courses, you can use the capsule course for revision. When your exam is near, that is the best time for a quick revision of all the important topics and tips. It is impossible to retain all the information that you acquired through your studying. Revision is therefore very essential to hammer that information deep in your mind so you don't forget it.
If in case you didn't start your preparation yet and your exam is near, then just go for capsule videos/ crash course instead of starting a full course that could take months. They are your best shot!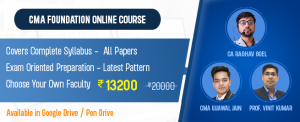 Books and Notes
While studying for your CMA foundation exam, you should also refer to books for the same. Books can be super effective. They can cover all resources like syllabus, mock test papers, practice tests, and answers all in one. Getting the right book is all you need. Notes are easier to understand and can also be used for revision. Always make your own notes as well while you are taking a course.
Notes from our faculties:
For more study material such as comprehensive notes, test series, and practice manuals, check out our CMA Foundation online courses.
Here is a complete guide for using CMA Foundation study material
Gather all information about the course, subjects, passing criteria and exam details
Enrol in a coaching institute, online or offline, and start taking your lectures
Refer to books and notes for a better understanding
Make your own notes
Start doing mock test papers after you have studied enough of your course
Look at previous year's papers and solutions and start practicing them
At the end of your preparation, take a crash course
Keep practicing mock test papers till the end