What is CMA? What is CMA course? How to become a CMA? Have all these questions in mind? We will answer all of your questions but before we start reading the article, answer a few questions for me.
What is the last thing you bought? Was it a clothing item, a plane ticket, or something else? How much did it cost? What do you think was the cost of producing it? Who do you think decided these costs?
The answer would be, A certified CMA or you in the future will!
Looking to start a career in CMA? Wondering what your future will look like? Or just here to brush up on some facts and improve your knowledge? The first step in succeeding in anything is to know all the basics and all the rules. You can't win at chess if you don't even know the rules.
In this article, we will cover all the relevant information about what is CMA course? What are the CMA course details? What is the CMA course duration? Are you eligible for it? How to become a CMA, courses, career benefits, and More.
Table Of Content:
What is CMA?
What is CMA Course?
A career in CMA India
Benefits of being a certified CMA
What is CMA eligibility criteria?
How to become a CMA?
Start your career in CMA India with TopLad
What is CMA?
What is the job of a CMA? 
CMA stands for Cost and Management Accountant. It is one of the most promising certifications in the financial sector in India and is granted by ICMAI (the Institute of Cost Accountants of India). A certified cost accountant works in the financial sector. For example, as mentioned above he/she calculates and decides the cost of various things we buy daily, like a plane ticket, a clothing item, or deciding the cost of a product before launching it in the market and managing it thereafter according to the market conditions.
CMAs working in organizations or various corporations will manage all the financial decisions and budgeting, they decide what to pay the employees, prepare budget sheets and handle overall costing in the firm.
So, basically, it all has to do with money and cost hence the financial sector.
CMA certification has gained huge popularity in recent areas. It is a very viable course for someone looking to work in this sector. It offers a very good flow of income, high growth opportunities, a vast number of fields to work in, and a huge amount of respect. 
What is CMA Course?
CMA course prepares young minds to be able to work in the financial sector and be able to facilitate decision makings as a cost and management accountant while working in an organization. To become certified, one has to complete the whole course granted by The Institute of Cost and Management Accountants of India. In the course there are three levels namely:
A candidate has to successfully complete all three-level to become certified. CMA Foundation, Intermediate, and Final consists of 20 subjects, 4 in the foundation course, 8 in intermediate, and 8 in the final. Only after successfully clearing exams for all levels can a candidate become certified. The duration of the course is usually 3-4 years. 
For CMA course details like, what is the Course about, Subjects, Duration, and Exams, Check out our article on the CMA course.
CMA Course – A Complete Guide 2022
Skills you learn through CMA Course
Following are the skills a candidate will learn after successful completion of his/her course:
Financial Accounting
Strategic Accounting
External financial reporting
Cost management
Risk management
Planning and budgeting
Performance management
Internal controls
Profitability analysis
Investment decision
Career in CMA India
Wondering what your future will look like? What does a career in CMA India entail? 
Being a certified cost and management accountant opens up a lot of doors for you in terms of job, salary, and growth.
After all the hard work and dedication, you put in to complete your course, you get to combine your theoretical and practical knowledge and show off your skills, and the best part? You can do that in various different kinds of organizations, departments, or areas, not just one. 
Let's look at the organizations you get to work in:
Any Cost and Management accounting firm
Central Government or State Government
Banks/ Insurance or other financial institutions
Public sector undertakings
Universities or any other recognized educational institutes
Co-operative societies and NGOs
Any CA/CS firm that has a separate division for management consultancy 
Any organization that has a separate division for management consultancy
Earlier only the public sector used to recruit CMAs in their organizations but nowadays prospects for CMAs have increased immensely.
Almost all organizations are recruiting CMAs and are interested in giving them jobs. It has become extremely important to identify the cost of products and manage it according to the condition of the market, and minimize production cost to maximize profits therefore the role of CMAs has come out to be super significant. 
Here are some career prospects that you can pursue:
Financial Manager
Cost Accountant
Financial Analyst
Chief Financial Officer
Corporate Controller
Financial Controller
Chief Investment Officer
Benefits of being a certified CMA 
There are several benefits that a cost and management accountant gets to enjoy. After all the hard work you put into completing the certification, the benefits are commendable. 
Great Job Opportunities
CMA course can throw some really good job opportunities your way. You can work in huge organizations, corporations, and multi-nation companies with a terrific job profile and climb up the ladder as high as you want and work hard for.
Companies such as ITC, ICICI Bank, Wipro, Ford, Amazon, Accenture, Larson, and Toubro are regular recruiters.
It can also land you managing positions in public and private sector enterprises like Managing Directors, Finance Director, Financial Controller, Chief Financial Officer, Cost Controller, Marketing Managers,s and many other important positions.
High Salary 
With great jobs come great responsibilities come great salaries. No doubt this course can lead to high earnings. A student who has cleared intermediate group 1 level can get between 1 – 6 Lakhs per annum, and after clearing group 2, if he/she scored top rank in the examination can get between 3.8 – 17 Lakhs per annum.
But this is just the salary before even completing the entire three-level course. A CMA certified (who has cleared all three levels) can get a starting salary of 7 – 20Lakhs per annum.
Though the average salary for a fresher in India is 5-7 Lakhs per annum.  High positions such as CFO (Chief Financial Officer) can earn up to 40Lakhs per annum. 
Global Opportunities
Demand for a cost and management accountant is not just in India but all over the world. A CMA certified can even get opportunities to work globally in continents like America, Europe, Africa, the Middle East, etc. 
Business Appeal
Another great benefit of pursuing a CMA is how it provides you with knowledge of business and accounting together. You can therefore work in business associations and make important business decisions and handle other operations very well. 
What is CMA Eligibility Criteria?
Who can pursue this course?
Now we can all agree that this career path is filled with benefits and growth opportunities, but it's not all flower beds and rose petals.
There are always some pros and some cons to everything right? Becoming a CMA requires a huge amount of hard work and dedication, but what can make the process easier is if you have the mindset as well as interest relevant to it. 
What kind of skills and interests should you have to succeed as a Cost and Management Accountant?
Decision making
Good with computers
Leadership 
Good in Mathematics 
Interest in finance and business
Analytical Skills
Interest in the field of Economics
Likes to be aware and reads about what's going on in the market
Loves to play around with numbers
Always looking for ways to minimize unnecessary spending in daily life
Likes to apply the calculative approach to everything
Now, remember, having some or all of these skills and interests just makes it easier or more fun to pursue this career pathway, but not having them does not mean you won't succeed.
Interests and skills can always be built. Hard work always wins in the end. 
CMA Course: Eligibility Criteria
Skills and interests aside, what you actually need to be eligible to appear for the course is mentioned below:
A candidate should have passed Class 10 or equivalent from a recognized Board or Institution.
Passed Senior Secondary Examination under 10+2 scheme of a recognized Board or an Examination recognized by the Central Government as equivalent thereto or has passed National Diploma in Commerce Examination held by the All India Council for Technical Education or any State Board of Technical Education under the authority of the said All India Council, or the Diploma in Rural Service Examination conducted by the National Council of Higher Education.
If you meet the eligibility criteria, then you can go on and apply for the first level i.e. CMA foundation level. 
How to Become a CMA? 
If you meet the eligibility criteria, then you are ready to start your CMA journey.
To become a certified CMA, you have to complete all three levels of CMA successfully. You would be required to study, take coaching classes and take the exams for all three levels. During this, you will also be required to complete your CMA articleship a.k.a. practical training of three years.
Only after successful completion of all this, you will be deemed a certified CMA.
A Step-By-Step Guide On How To Become A CMA
Step 1 – Register for the CMA Foundation course on the official website of ICMAI. 
Step 2 – Study, take coaching classes and pass the foundation exam 
Step 3 – Start and complete your computer training from a regional council
Step 4 – Register for the intermediate course
Step 5 – Study, take coaching classes and pass the intermediate exam
Step 6 – Begin your articleship
Step 7 – Register for the final course and pass the examination
Step 8 – Finish your articleship of 3 years
After you complete your articleship and have passed all the exams, you successfully complete your CMA course. 
For more information on how to register for the CMA course? check out our article on CMA registration. 
CMA Registration 2022: Amission, Important Dates, Steps to Register
ICMAI – The Institute of Cost and Accountants of India
The Institute of Cost and Management Accountants of India (ICMAI) is a professional accountancy body and is the only recognized professional organization and licensed body in India that specializes exclusively in cost and management accountancy (CMA). It is under the ownership of the Ministry of Corporate Affairs, Government of India. It was previously known as the Institute of Cost and Works Accountants of India (ICWAI).
ICMAI issues certification for cost and management accountants in India. A candidate to become certified has to register and pass all levels of examination according to the rules and guidelines offered by it. A candidate also has to complete his practical training as mentioned in the scheme provided by ICMAI on their website, On the website, you can also find ICMAI study material, which can be very useful
Start Your Career in CMA India with TopLad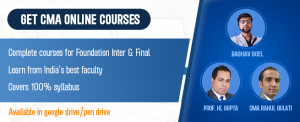 TopLad is India's largest online learning platform for CMA, CA & CS. With some of the best teaching faculties in India, online classes, authentic study material, mock test papers, practice manuals, and much more, we have helped thousands of students reach their dream of becoming a CMA. CMA course, no doubt is hard, and it can take multiple attempts to clear all exams, but with the right coaching, the right strategy, and the right approach, we help our students clear exams in a single attempt and become successful in their career. 
Check out TopLad's CMA coaching program: TopLad CMA
What TopLad Offers:
Online Classes taught by the top faculties in India (English & Hindi)
Foundation, Intermediate and Final Courses (Individual subjects or combos)
Study Material – Books, Notes, practice manuals, video lectures (pen drive or google drive)
Mock Test Papers
Previous year question papers with solutions
Test series strictly as per exam pattern of Institute of cost accountants of India
Doubt sessions
Job Portal – With our job portal you can easily find job opportunities from the best organizations in India. Whether you have qualified for your course, still pursuing it, or looking for an organization for your articleship, you can find a job with TopLad. 
Quality learning and a faculty that you can trust
We hope that now you have a clear understanding of what is CMA India and how to become a CMA. For more information, you can also reach out to us via email at [email protected] or call us on our toll-free number 18003091245 and talk to our experts for free.